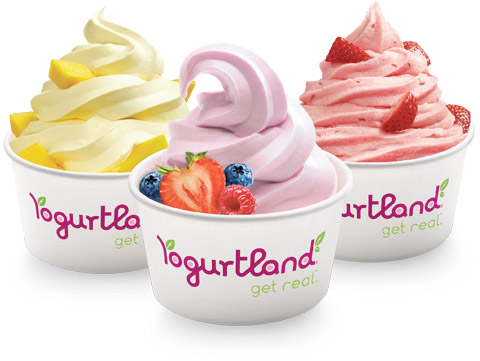 Okay, let's be real for a second, who doesn't love frozen yogurt!? Not only is it just as sweet as regular ice cream, but it's also lighter, healthier and more refreshing! (Though we also love ice cream.) Just like ice cream, frozen yogurt is good by itself, but combining flavors is the only way to truly experience Yogurtland Southlake at the Shops of Southlake. Here are the frozen yogurt combinations that we think are the best.
Fresh Strawberry & Dutch Chocolate
Everyone loves chocolate covered strawberries! Now what if you could get that same great flavor but in frozen yogurt? Well by pairing the Fresh Strawberry yogurt with the Dutch Chocolate yogurt, you can indulge in the wonderful taste of chocolate-covered strawberries all the time! As if this wouldn't be indulgent enough, you can also use some great toppings to bring it over the top.
Salted Caramel Pecan & Cheesecake
Cheesecake frozen yogurt is pretty tasty, but it sometimes can lack in flavor. However, when you mix it with the Salted Caramel Pecan frozen yogurt, then your cheesecake flavors are transformed and delightfully partner up with the buttery rich caramel flavor. There will also be the excellent little hint of salt and real pecans, which will have your mouth-watering at just the thought of this amazing frozen yogurt combo. It'll be so good you may not even want any toppings!
Toasted Coconut & Iced Coffee
Have you ever had your coffee with coconut milk? If so, then imagine that but a richer, nuttier flavor! Mixing Yogurtland Southlake's Toasted Coconut yogurt with their Iced Coffee yogurt will surely be delicious.
With all the different flavors of frozen yogurt at Yogurtland Southlake, every guest has the ability to make their own unique frozen yogurt and take it a step further with a wide array of great toppings.
Shops of Southlake is offered by Weitzman. Weitzman is one of the leading commercial real estate companies in North Texas. Weitzman offers a full range of Commercial Real Estate services including Project Representation, Tenant Representation and Investment Sales and, is also a leading Asset Management and Development Services Commercial Real Estate firm.
(Image via yogurt-land.com)