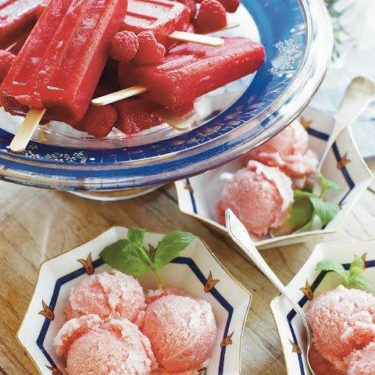 Nothing is better at the end of a day than sitting down with your family and easting a home-cooked meal. While you could always resort to staples like spaghetti or meatloaf, why not branch out and try some of these new summer recipes from Central Market Southlake?
Collard, Carrot, Raisin Slaw

(Image via centralmarket.com)
Starting off our list of summer recipes is this collard, carrot, raisin slaw that is the perfect appetizer or side for a summer cookout. Plus, you can make it the night before and just pull it out of the refrigerator whenever you're ready to eat!
Gorgonzola Grilled Tomatoes

(Image via centralmarket.com)
Nothing quite says summer like a juicy, red tomato! Try these tasty gorgonzola grilled tomatoes the next time you have a few friends over. They're also so quick and easy to make that you can get them started right before everyone gets ready to eat.
Chicken Salad with Peaches and Almonds

(Image via centralmarket.com)
Who doesn't love a good chicken salad in the summertime? This chicken salad with peaches and almonds takes this American favorite a step further by adding the sweetness and crunchiness of peaches and almonds.
Ceviche of Red Snapper

(Image via centralmarket.com)
Are you longing for the beach life in Southlake? Well with this delightfully fresh ceviche of red snapper, you'll feel like you're right on the coast watching the waves crash on the shoreline. We're not trying to play favorites, but this is probably our favorite of all these summer recipes.
Frogmore Steam
(Image via centralmarket.com)
What would summer in Southlake be without at least one night of spicy, steamed, BBQ goodness that can only come from the mouth-watering frogmore steam? With shrimp, sausage, potatoes and corn, this is a meal that's sure to be a hit with everyone.
Watermelon Sherbet
(Image via centralmarket.com)
You didn't think we'd forget about dessert, did you? While everyone loves cake and ice cream, sometimes it's better to have a dessert that's sweet but also refreshing. This watermelon sherbet is just that! It's the perfect summer treat for when we hit those triple digit temperatures.
So where can you go to get all the ingredients you need to make these summer recipes? Just come over to Central Market Southlake at the Shops of Southlake.
Central Market Southlake
1425 East Southlake Boulevard
Southlake, Texas 76092
(817) 310-5600
Shops of Southlake is offered by Weitzman. Weitzman is one of the leading commercial real estate companies in North Texas. Weitzman offers a full range of Commercial Real Estate services including Project Representation, Tenant Representation and Investment Sales and, is also a leading Asset Management and Development Services Commercial Real Estate firm.
Photo Source: Image via centralmarket.com