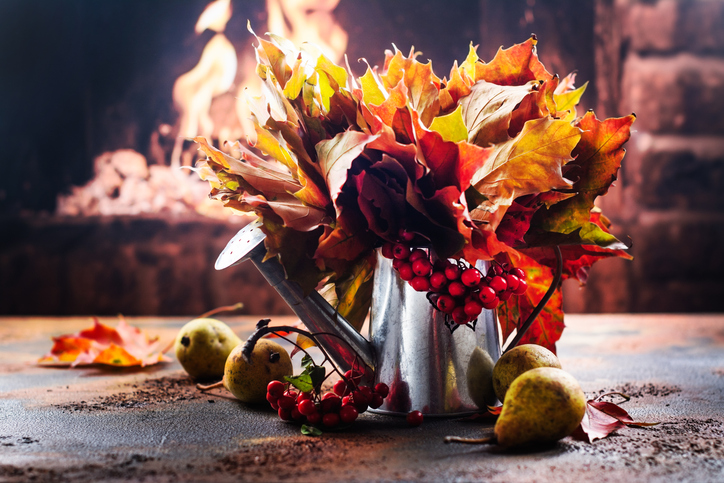 The leaves have begun to change color, so should the interior of your house. If you're looking to do a bit of an interior design revamp for the new chilly season, then Sally Lynn Home Southlake has a few fall interior decorating tips that they'd like to share with you.
Mantle Banners
Think about just how much you'll be using your fireplace this fall/winter. That's why the first of our fall interior decorating tips is to make sure you don't have a bland mantle. People will gather around the fireplace to warm up, make s'mores or just enjoy watching the flames dance on the logs. Make sure that you have some sort of seasonal banner or fabric to place over your mantle to give it some much-needed character.
Mix Rustic and Autumn Accessories
The rustic look has been on the rise for the past few years now and it's probably here to stay, especially through the fall. Using slightly worn or distressed metals along with natural, autumn elements such as vibrant leaves and deep woods can give your interior a cozy feeling while looking effortlessly done.
Pump Up Pumpkins
Who says pumpkins can only be carved up and placed outside for Halloween? Get more creative with this versatile design element and use it throughout your home. Pumpkins come in all shapes and sizes, so you should have no problem finding the perfect pumpkins for a table centerpiece or additional mantle interior design elements.
Bring Outside Inside
You can never go wrong with surrounding yourself with natural elements. Bringing the outside inside to use for your interior design considerably one of the best fall interior decorating tips because it can apply to essentially every room and with every piece of fall nature you can think of. Whether it's throwing some pine cones and leaves into a vase for an accent piece or gathering small sticks to bundle up and place around your fireplace, there's a piece of nature waiting to become a part of your home.
When it comes to getting all your fall interior decorating needs, you can never go wrong with coming to Sally Lynn Home Southlake at the Shops of Southlake. We hope these fall interior decorating tips inspire you to turn your home into a fall wonderland.
Image from Thinkstock by Getty Images. Item number: 857430488