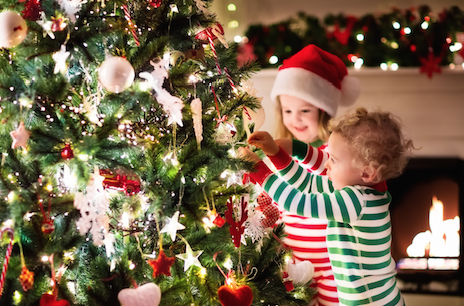 Thanksgiving has come and gone, and now it's time to get that Christmas tree up! If you're trying to decide how to decorate your Christmas tree this year, Sample House Candle Shop has 10 unique Christmas tree trimming ideas you'll love!
Multiple Trees
Who says you can only have one Christmas tree!? This year, try using a couple of smaller trees to not only make your larger tree pop, but to also create a complete display. Plus, if you seem to have more ornaments than tree space, having multiple trees is a great way to get all your precious family ornaments on display for the holidays.
Colored Pinecones
Let's get the whole family involved with this next one! Head to your local craft store and pick up some pinecones and paint. Then head to the backyard and get ready for a family-fun craft that will also add a beautiful, natural design element to your tree.
Vintage
For a blast from the past, go thrifting and antiquing to see what little trinkets you can find. You never know what little item you'll find that will be perfect for your Christmas tree decorations that span the decades.
Galvanized Bucket Stand
Rather than sticking with your traditional tree stand, go for something different like a galvanized bucket to give your tree a more rustic, country Christmas look. A burlap bow is the perfect finishing touch!
Just Glass
Now, of you have small children or pets, this may not be the best idea. However, you can never beat the beautiful simplicity of going with all glass. When the glass will really stick out is when it catches the light of your fireplace just right.
Father Time
They say time stops for no man, but Father Time may sit for a minute when you decide to decorate your Christmas tree with old pocket watches and clocks. This can be another fun one that you can also get the kiddos involved with by making paper clock faces.
Alphabet Tree
Perfect for the family that has young children who are starting to learn their alphabet, decorating your Christmas tree with letters from the alphabet can make decorating your tree a fun AND educational time for your young ones.
Paper
Some of our ideas have already mentioned getting your family involved, but if you want to make this year's Christmas tree decorations a true family endeavor, then you can't go wrong with making all your own decorations out of paper! From creating paper snowflakes to little girls and boys to wrap around the tree, this can be a source of hours of fun!
Feathers
Great for someone looking to have plenty of choices, feathers come in so many different colors and patterns that the decorating possibilities are virtually endless! You can couple your feathers with some colorful ribbon to really bring the decorations together.
All White
There's just something magical about an all-white tree. Whether it makes people think of a snow-covered tree (which we don't see too often here in Texas) or just because it's simple, all-white decorations can really make your tree pop.
For all your Christmas tree trimming needs, be sure to come by Sample House Candle Shop Southlake at the Shops of Southlake.
Shops of Southlake is offered by Weitzman. Weitzman is one of the leading commercial real estate companies in North Texas. Weitzman offers a full range of Commercial Real Estate services including Project Representation, Tenant Representation and Investment Sales and, is also a leading Asset Management and Development Services Commercial Real Estate firm.
Image from Thinkstock by Getty Images. Item number: 608640648