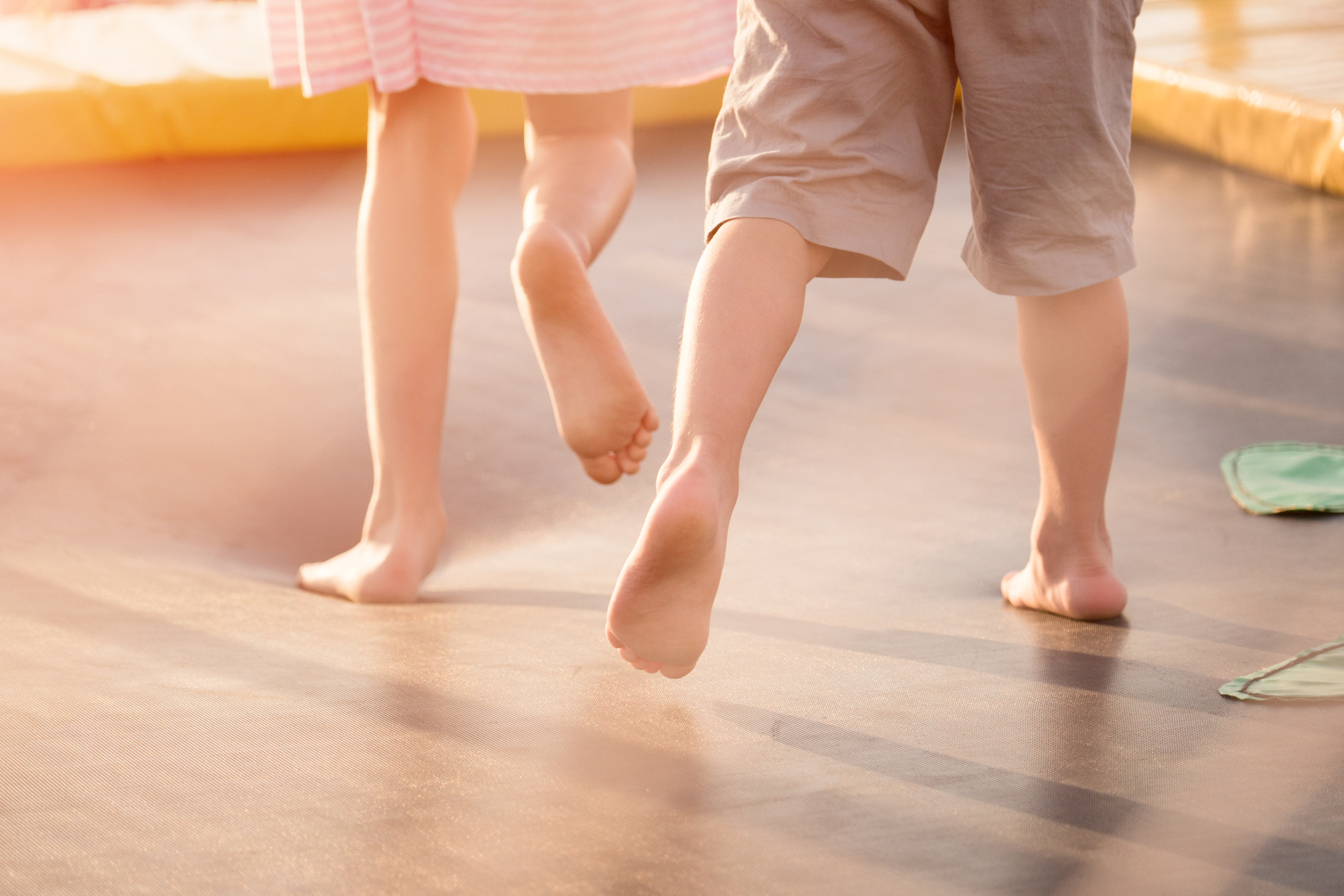 Cleaning your trampoline in the Texas summer heat is never as fun as jumping on them. To help make your life easier, Springfree Trampoline Southlake has put together trampoline cleaning tips before you bounce your way into summer.
Before cleaning
Before you begin your cleaning, remove all trampoline accessories such as the basketball hoop, FlexrHoop, or interactive games, like tgoma. Then, gather all the cleaning supplies you'll need.
Here's what you'll need:
A broom

A bucket

Warm soapy water

Hose

Clean towels

Sponge
Surface cleaning
Before you go crazy and start hosing down the mat, you'll need to take off the safety net and take your broom to sweep off any extra dirt and debris. Sweeping the trampoline may be very tempting to skip, but in the end, it will make your cleaning easier and quicker. Use your hose and rinse down the mat to prepare it for cleaning. After, take your bucket of warm soapy water and scrub the mat with your sponge. Avoid using chemical based soaps on the mat as they might corrode the material. After you give your mat a good scrub, rinse over to wash off the remaining soap and let the mat dry. With the Texas summer heat, your mat will be dry in minutes!
Framework cleaning
Cleaning the framework of your Springfree trampoline will be easy since you don't have to go through the pain of cleaning springs thanks to Springfree Trampoline. Simply take your sponge and warm soapy water and clean the composite rods and metal framework. Again, after scrubbing off all the dirt, rinse with your hose, and wipe down with a dry towel. You now have sparkling clean framework!
Safety net cleaning
Remember when I said cleaning the framework of your Springfree Trampoline would be easy? Cleaning the safety net is the easiest step of all. Simply have your net hanging and rinse down thoroughly with your hose and scrub when necessary. If you scrub your net, be sure to rinse down with your hose to wash off the remaining soap. There you have it! A clean Springfree trampoline. It will look so clean your neighbors will think you bought a new one.
If you're in need to jump for joy, be sure to leap by Springfree Trampoline Southlake. You'll be guaranteed to bounce out with a safe, clean trampoline, free of the pain of springs.
Shops of Southlake is offered by Weitzman. Weitzman is one of the leading commercial real estate companies in North Texas. Weitzman offers a full range of Commercial Real Estate services including Project Representation, Tenant Representation and Investment Sales and, is also a leading Asset Management and Development Services Commercial Real Estate firm.
Photo Source: [Ruslanshug][580134730] Thinkstock