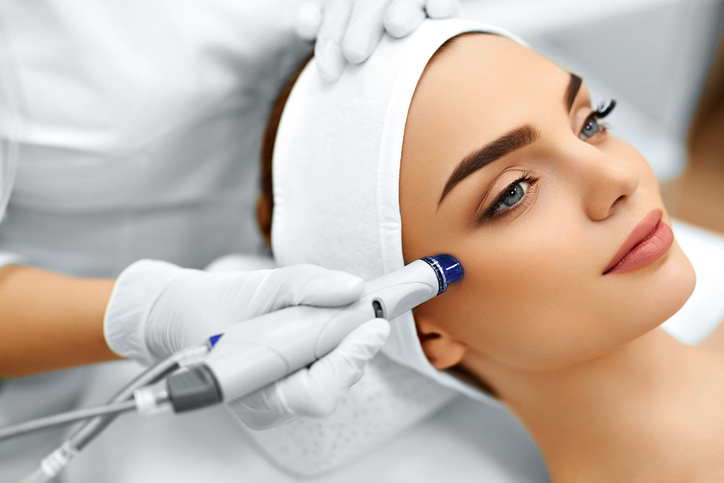 Summer may have been a blast, but all the sun and heat could have really done a number on your skin. Now that the seasons have changed, it's time to switch over to some fall skincare to make sure that as the cold weather approaches, your skin will be strong and healthy. Here are some of the facial treatments available at Corinthian Wellness Spa in the Shops of Southlake.
Diamond Tip Microdermabrasion
Using a diamond tip to break up any dead or unhealthy skin cells leftover from summer, the diamond tip microdermabrasion is the perfect manual exfoliation treatment. After this microdermabrasion treatment, clients generally see a clear reduction in the appearance of wrinkles, acne scars and blackheads. A diamond tip microdermabrasion treatment will also help to minimize the size of pores, reduce sun damage and help to even out skin tone. For optimal results, Corinthian Wellness Spa suggests the microdermabrasion take place over a series of six treatments.
Vitamin C Mask
While you may not think that vitamin C can help your skin, a vitamin C mask at Corinthian Wellness Spa is a must if you want to take your fall skincare seriously. Not only does the vitamin C mask help to reduce dry skin, which is all too common in the fall and winter, it's also an excellent anti-aging and skin boosting treatment. These special masks at Corinthian Wellness Spa have been shown to repair sun damage, reduce fine lines and improve vitality, tone and coloration.
Custom Facial
Lastly, if you have skin that requires a more specialized treatment, Corinthian Wellness Spa has custom facials as part of their fall skincare offerings. Their custom facials focus on blending the best products to fit your skin's unique needs. Whether you want to focus on hydration, acne, fine lines or wrinkles, the skincare experts at Corinthian Wellness Spa can create the perfect custom facial for your skin.
Get your fall skincare kicked off right by scheduling an appointment at Corinthian Wellness Spa in the Shops of Southlake.
Corinthian Wellness Spa
1251 E. Southlake BLVD.
Southlake, TX 76092
Monday – Saturday 9:00 AM – 6:00 PM
Sunday 10:00 Am – 6:00 PM
Image from Thinkstock by Getty Images. Item number: 501398658